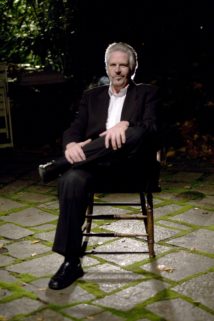 Coming off the bench for the Portland home team is legendary piano blues man DK Stewart. Back under the spotlights at the Blue Diamond on Jan 26th the evening's early show will feature smokin' hot roots blues and smarmy piano soul. Makes me feel like dancin'
Sidelined by cyborg implants, DK has taken advantage of the spare time to wood-shed (once) since his escape from angry gypsies earlier last century.
Waving his hands about and shouting for no particular reason, Stewart likes to summon key musicians in the area to the stage to help diffuse the madness. Local traps man Ed Pierce can fix a flat tire shuffle in a heartbeat with the help of Joseph Conrad's steady-drivin' bass lines.
Bluesman Peter Dammann classes up the stage with near genre-perfect guitar lines puctuated by soaring leads and melodies.
Chris Mercer and Joe McCarthy make the horn section shine, hanging ten and helping Stewart hold back the thundering horde of fans he imagines…